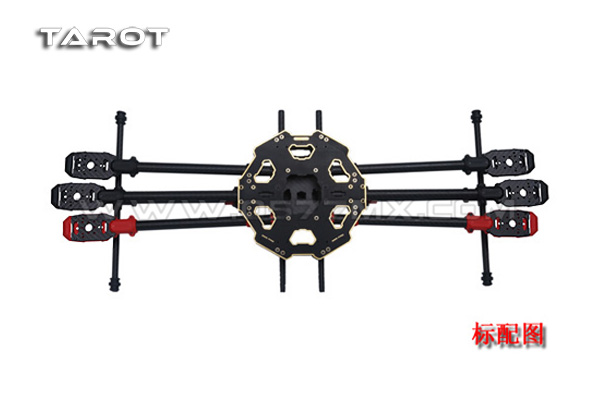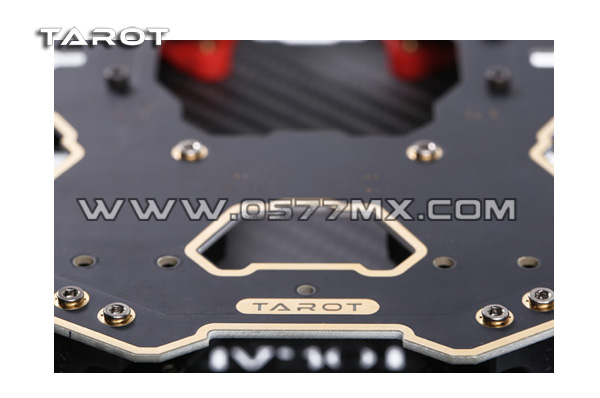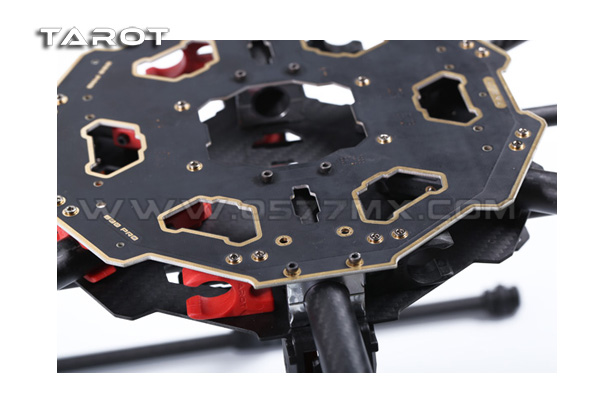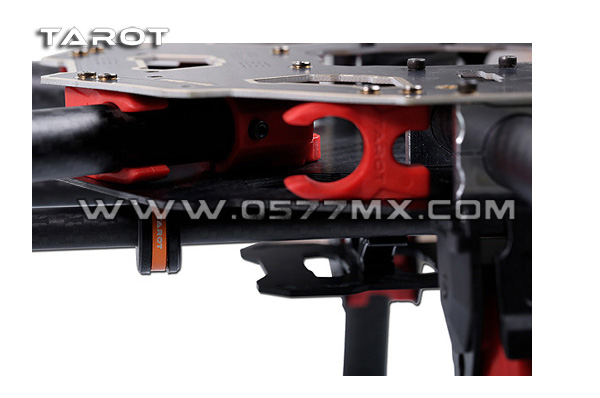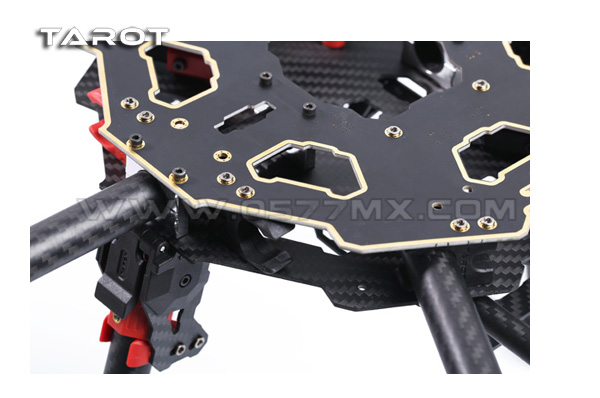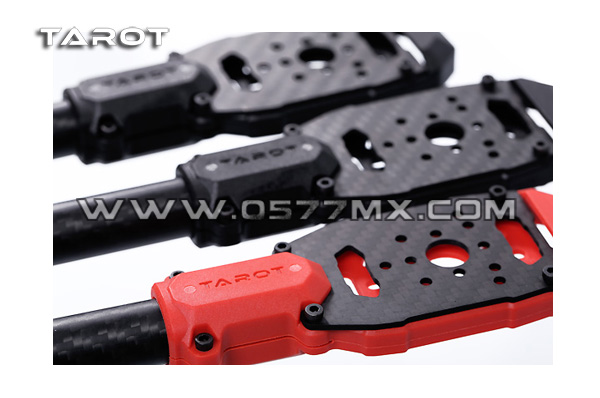 TAROT 680PRO six axis aircraft frame to frame 680 series of products, by the independent innovation design of TAROT company, with a number of patented technologies. TAROT 680PRO has the optimization design oflarge installation space folding convenient, lower the center of gravity, morestable, with a strong visual impact on the shape design.
The subject is equipped with high strength matte gold process of compositePCB circuit, integrated PCB board connection to power supply, electricadjustable connection more efficient, safe, providing adequate space forvarious flight control system. The Dongli 3K hollow pure carbon carbon fiber tube (non 3K glassy carbon tube) all CNC processing. Design standards higher than similar products. Model 16MM carbon tube folding seat widened 3 point support, to prevent cracking breaking effect, contactsurface increases and the carbon plate, the new antiskid design can tightlylock the better carbon tube.
The new carbon tube fixed set of imported fiber reinforced nylon material,upper and lower using M2.5 ladder screw fastening, the diameter of M3.2contact surface can make the PCB board and the arm fixedly connected.The new folding bipod whole independent design safety locking device, to prevent the impact force caused by the overall damage tripod contraction,aircraft. The new motor a new brushless electric adjustable mountingposition, wire harness protection clamping, clamping type design easy to adjust the motor base level. From the angle of impact has strong doublecolor eye-catching color appearance design, provide good visual directionfor the body.
TAROT 680PRO six axis aircraft frame according to the design requirements of the user high portability, especially suitable for monitoring,remote sensing, mapping, aerial observation, fire, life exploration, cableline, farm monitoring, high requirement on the performance of mobileapplications, equipment load and need longer not blank flight time of the.
The products measurement:
Carry the GO console, wireless image transmission load, full weight 2.76KG, hovering flight time 14.5MIN.
"Detailed specifications refer to related accessories that"
Configuration specification:
The diameter of 695MM
Rotor size: 12-13 inch carbon fiber propeller TL2829
Brushless motor: 4S/620KV4006 brushless motor TL68P02
Battery specifications: 14.8V 4000-5000MHA
Brushless ESC: 20 - 30A
Related accessories reference number:
680PRO folding six axle center plate group TL68P01
680PRO hanging type battery holder TL68P03
Phi 16MM 3K lines Matt pure carbon nanotubes (275MM) TL68P04
Phi 16MM 3K folding machine arm of pure carbon nanotubes (262MM)TL68P05
Phi 16MM 3K folding bipod pure carbon nanotubes (185MM) TL68P06
16MM carbon tube folding positioning seat group / red TL68B28